We're Proud to Have These Board Members as Part of our Team
With members representing a variety of local organizations, our Board of Directors is committed to strengthening Colorado communities.
Mark Kross is the President of the Company and a director of the Bank. His 18 year banking career includes serving as the Branch President and Board Member of Bank of Colorado for 6 years; three years as Senior Vice President at Community First Bank, three years as a financial analyst with Hewlett-Packard Inc., and two years with LaSalle National Bank in Chicago, IL. Areas of career focus include bank development – with 5 de-novo bank start-ups, bank management, credit approval, and venture capital.
Mark graduated with honors and distinction with a BA in Finance and Accounting from the University of Iowa and graduated with honors with an MBA from the Daniels College of Business at the University of Denver. Mark is also a graduate of the University Of Colorado Graduate School Of Banking.
Gerard Nalezny is the Chairman and CEO of the Bank and a director of the Company.
His 27 year banking career includes serving as the President of Community First Bank of Fort Collins/Greeley; ten years in various roles with Key Bank in New York, Cleveland, Wyoming and Colorado (Special Assets/Workouts Officer, Credit Department Manager, Northern Colorado Lending Manager; Colorado Commercial Loan Re-Engineering Representative; Colorado Middle Market Lending Manager); a brief stint with the Resolution Trust Corporation; a real estate loan officer at United Savings Bank in Washington D.C.; and a Management Trainee at First Bank Systems. Gerard has a BA in Economics from Carleton College and graduated from Pacific Coast Banking School in 1997.
Scott Horton is the Chief Financial Officer of the Company joining Verus Bank of Commerce in October of 2013. He has been in the banking industry for over thirteen years where he has held various accounting positions at community banks. Most recently Scott was the Assistant Controller for NBH Bank, N.A. the banking subsidiary of National Bank Holdings Corporation, a $5 billion publicly traded bank holding company. Scott has been part of bank mergers, acquisitions, conversions and has extensive experience in bank asset liability management.
Scott is a graduate of the University of Colorado, Boulder where he earned a Bachelor of Science in Accounting and a Minor in Economics. He has also passed the CPA exam and completed the Graduate School of Bank Investments and Financial Management at the University Of South Carolina Darla Moore School Of Business.
Matt Vesgaard is the Chief Credit Officer of the Company joining Verus Bank of Commerce in May of 2012. He has been in the banking industry for over seventeen years where he has held various lending and credit positions.
Matt has experience with national banking organizations as well as community banks; his experience includes consumer banking management experience with Wells Fargo and Key Bank as well as commercial-focused positions with Guaranty Bank and Trust and Cache Bank and Trust. Matt has an extensive credit analysis and underwriting background in both commercial and consumer finance. Matt is a graduate of Colorado State University where he earned a Bachelor of Science in Marketing as well as an MBA.
Steven Hitz is a director of the Company and a director of the Bank. He is an entrepreneur at heart; having built from scratch US-Reports (established in 1988), an insurance services company with over 1000 associates; which has operations in the United States and Canada.
He sold the company in 2010. Other entrepreneurial endeavors include farming, real estate, and leadership. He is a founding director of Launching Leaders Worldwide, a 501c3 offering leadership principles that empower on six continents. He is the principle author of The Ministry of Business, which teaches the value of correct principles applied in business and life; now published in both English and Spanish, this best seller is used as foundational curriculum in entrepreneurial classes in four major universities.
He is also the author of the recently released book Leadership by LIGHT, principles that empower. Steve and his wife Ginger are the parents of five children and ten grandchildren.
Richard Spillman is a shareholder in the certified public accounting firm of Hunt, Spillman & Associates, P.C. The firm has practiced in the Fort Collins community since 1970. He was an organizing director of Fort Collins Commerce Bank and currently serves on the Board of Directors and the Loan Committee of Verus Bank of Commerce. He is a member of the American Institute of Certified Public Accountants and the Colorado Society of Certified Public Accountants.
His firm is a member of the Fort Collins Chamber of Commerce, the Colorado Association of Commerce and Industry, and the National Federation of Independent Business. Richard is a native of Colorado and received a B.A. in Science and Arts from Colorado State University in 1964. He has broad experience in the areas of tax, audit, accounting, and consulting for individuals and business entities in various industries.
Jack Vahrenwald is a partner in the law firm Vahrenwald, Johnson, & McMahill, joining in 1976. Jack is an Organizing Director, Current Board Member, and Loan Committee Member of Verus Bank of Commerce. He has been the President of the Larimer County Bar Association, a member of the Colorado Bar Association Board of Governors and has served on the Law School Alumni Board for the University of Colorado. Jack maintains an AV Preeminent 5.0 out of 5 Peer Review Rated Status with Martindale-Hubbell, which is the highest rating awarded to attorneys for professional competence and ethics. Jack's practice focuses on two primary areas, Transactional Law which involves real estate transactions, financing, business formation, business acquisition and sale, etc. The remainder of his practice involves Estate Planning and Probate, including preparation of wills, trusts, powers of attorney, etc., and the handling of probate matters, including transfer of a decedent's property and administration of estates.
Rhys Christensen is a director of the Bank. He was born and raised in Iowa. He graduated with honors from Simpson College with a degree in Economics/Business Administration. After graduation, Rhys moved to Ames, Iowa to study architecture at Iowa State University. He then started a construction company that specialized in custom solar homes.
In 1984, Rhys relocated to Fort Collins and began his commercial real estate career with Moore Commercial. In 1991, he joined Realtec to become one of the company's original partners. Since then, Rhys has consistently been one of the top producing commercial agents in Northern Colorado. His property management, construction, business, and commercial real estate background make Rhys a valuable team player.
Rhys is a dedicated professional who thrives on results. He credits his success to loyal clients, great partners and staff, his assistant, Angie Carney-Graves and his loving family. Affiliations include: Colorado-Wyoming Certified Commercial Investment Member (CCIM), Northern Colorado Commercial Association of Realtors (NCCAR), International Council of Shopping Centers (ICSC), and Premier member of Loopnet.
Jen Czaplewski is the Chief Operating Officer of the Company joining Verus Bank of Commerce in October 2009. She has been in the banking industry for over 25 years where she has held various operations and management positions.
Jen has experience with national banking organizations as well as community banks; her experience includes consumer and commercial banking, deposit operations, e-banking operations, Bank Secrecy Act, compliance, security, audit and IT operations.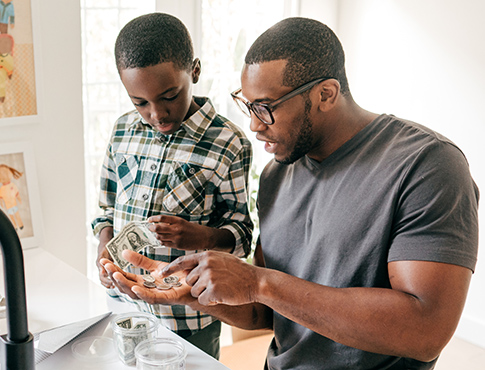 PERSONAL
Savings Accounts.
The best time to start saving is always now. Get started with a savings account today!